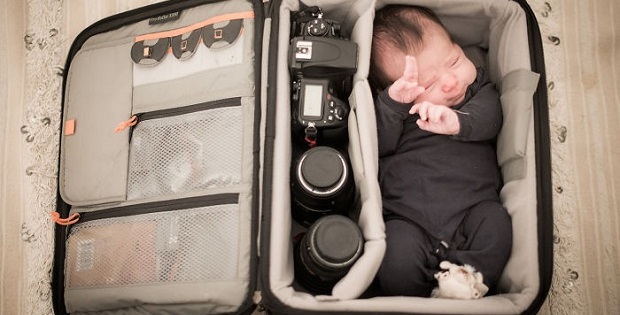 Have You Run Out Of Ideas For Baby Portraits? This One Is Fun And Adorable!
Some photographers enjoy taking portraits from newborns and spice them up with some weird yet adorable ways.
As we all know, babies are cute subjects for portrait photography especially when they're sleeping.
What if you take pictures from them in specific positions such as a camera bag?! Imagine that?! Pretty cool and innovative, right?
Well, read through this short story and check out the images! You'll absolutely love what you'll see. Let us know about your thoughts!
Some photographers have found a fun and adorable way to share pictures of their little newborns – by bundling them up in the padded camera bags where they carry their precious photo equipment!

It might seem strange, but these compartmentalized backpacks, protective and soft, are perfect makeshift cribs for little tykes! If we have any photographers among our readers who have taken photos like these, we'd love to see them added to this list! Upvote your favorites too!

(h/t: petapixel)

#1

#2

#3

#4

#5

……………….

Read the full story here at BoredPanda.com and see all these adorable baby pictures right there:

Photographers Take Adorable Pics Of Their Babies Sleeping In Camera Bags
Credits:
Article Source: Photographers Take Adorable Pics Of Their Babies Sleeping In Camera Bags
Image Source 3 (Also, the Top Featured Image)